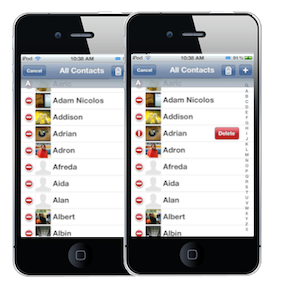 Delete Contacts Directly
Delete Contact brings possibility to remove a contact or multiple at a time directly from 'Contacts' screen. This beautiful little tweak works with all your iDevices including iPhone, iPad and iPod too.
Enhance standard 'Mobile' and 'Contacts'
Delete Contact allows to delete contacts from your iDevice's address book. This little tweak adds a trash icon to Contact and Mobile Phone application's contacts screen. From there you can delete a single contact or multiple contacts.
No additional App required
Delete Contact does not add any extra icon to your iPhone's Springboard and you can manage Delete Contact directly from iPhone's standard settings. You can turn off Delete Contact if you don't want to use it any more.